Denim
Quality Fashion
Designed to Fit All Your Curves Perfectly!
Because #CURVESAREBEAUTIFUL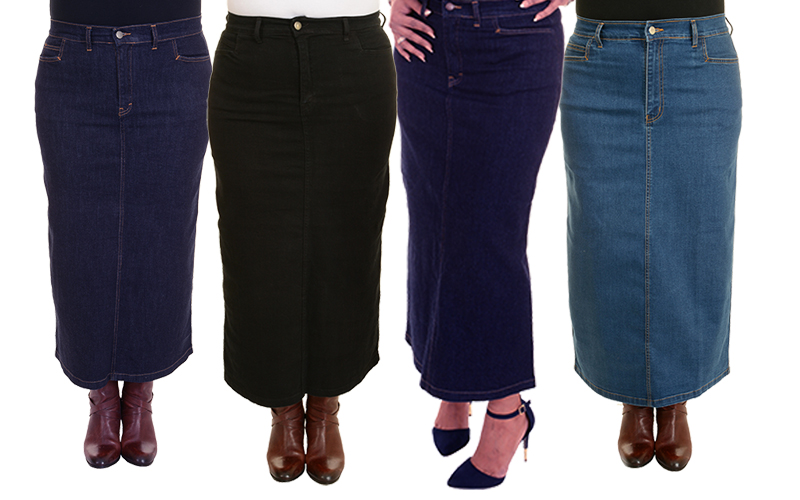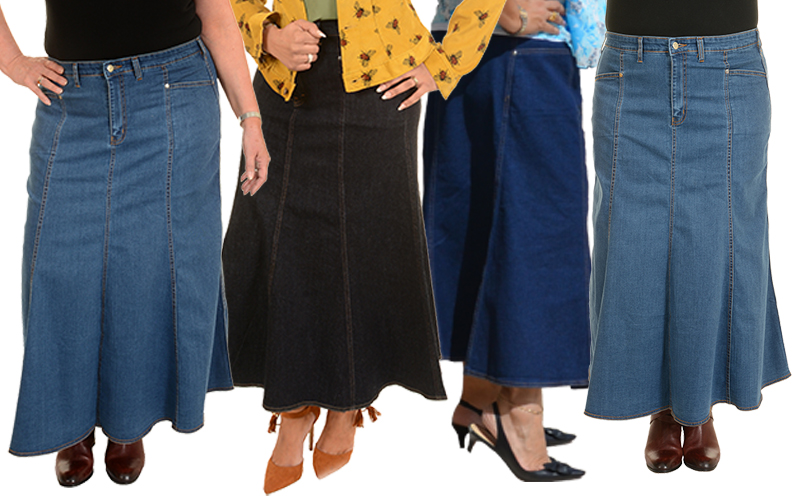 Quality Made Denim Skirts:  Maxi (30″ Length) & Flare (
30″ & 35″ Length)

in Junior/Petite, Women's & Plus-Size offered in Indigo, Black & Stonewash.  U.S. Sizes

4 to 22 / U.K. Sizes 2 to 18

ABOUT PLUS FIT Clothing
For many companies, the "ABOUT" pages are loaded with impressive facts & figures; but for us, we have always been "about" family.  For over 200 years our family has been in the textile and garment industry, from Tailoring to wholesale manufacturing, offering world class garments. Through the generations our knowledge and skills have become sharp and refined. We pride ourselves on having a hands-on approach and personal commitment to our entire business.  This commitment enables us to produce a quality product that is beyond compare.
In 1998, with our foundation firmly established by our forefathers,  MW Fashions was established in the United Kingdom.  MW's focus was manufacturing fashion-wear for numerous well known brands, catalogs, on-line retailers, and work-wear for famous food stores and government departments. After 30 years of strong growth and establishing a stellar reputation of quality and reliability; we expanded into online sales, focusing on the emerging Plus-Size clothing market.
In 2016 Plus Fit Clothing Limited was established with the goal to grow our business into the 21st Century to become one of the premier Plus-Size Clothing manufacturers and online retailers in the world. To achieve our goal we registered our trade mark brand ICE COOL™, which focuses on offering the Plus Size Market the latest and up to date "Ice Cool" fashion TODAY!
Having been in the fashion industry so long, we are keenly aware how under represented and ignored the plus-size market has been by the fashion industry.  We are proud to represent Woman of All Colors & Sizes (offering US sizes 10-28 on our IceCoolPlus.com website), because #CurvesAreBeautiful & so are You! We are confident you will love the Ice Cool Plus denim line; and our commitment to quality makes us unique from other manufacturers and brands.
Plus Fit Clothing Limited is based in the United Kingdom (Leicester) where our Design team and Factory is based. We also have a presence in Florida, USA to meet the needs of our clients in North America.

Contact Ice Cool PlUS
Can't find what you are looking for?  Have a product specific question?  Drop us an email!  We are happy to assist you in finding the denim fashion that fits your curves PERFECTLY!  #CurvesAre Beautiful !
Copyright © IceCoolPlus – All Rights Reserved.  Use of any & all content of this website is forbidden without the express permission of Plus Fit Clothing Limited · Ice Cool & Ice Cool Plus are trading names of Plus Fit Clothing Limited; Registered in England & Wales No. 10152860